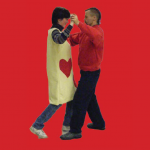 You will explore the fundamentals of dance education and movement including body, time, space, relationships and energy. You will receive instruction in various dance styles, steps and choreography as well as creative dance exploration and the construction of your own choreographic pieces. Exercises and experimentation with styles and choreography will allow you to develop physical fitness, social skills and to express personal themes, narrative and emotions.
Your Instructor – Melissa Mahady Wilton
Melissa is an Artist in Residence in charge of inclusive dance at H'art. She is the founder and Director of ConCorpsDance Inclusive Dance Programs, a Kingston-based organization devoted to creating dance programming accessible to all people, regardless of their ages, abilities, or special needs. She is a local inclusive dance educator who holds a Master's degree in Clinical Psychology, and has worked with people with disabilities for over ten years.